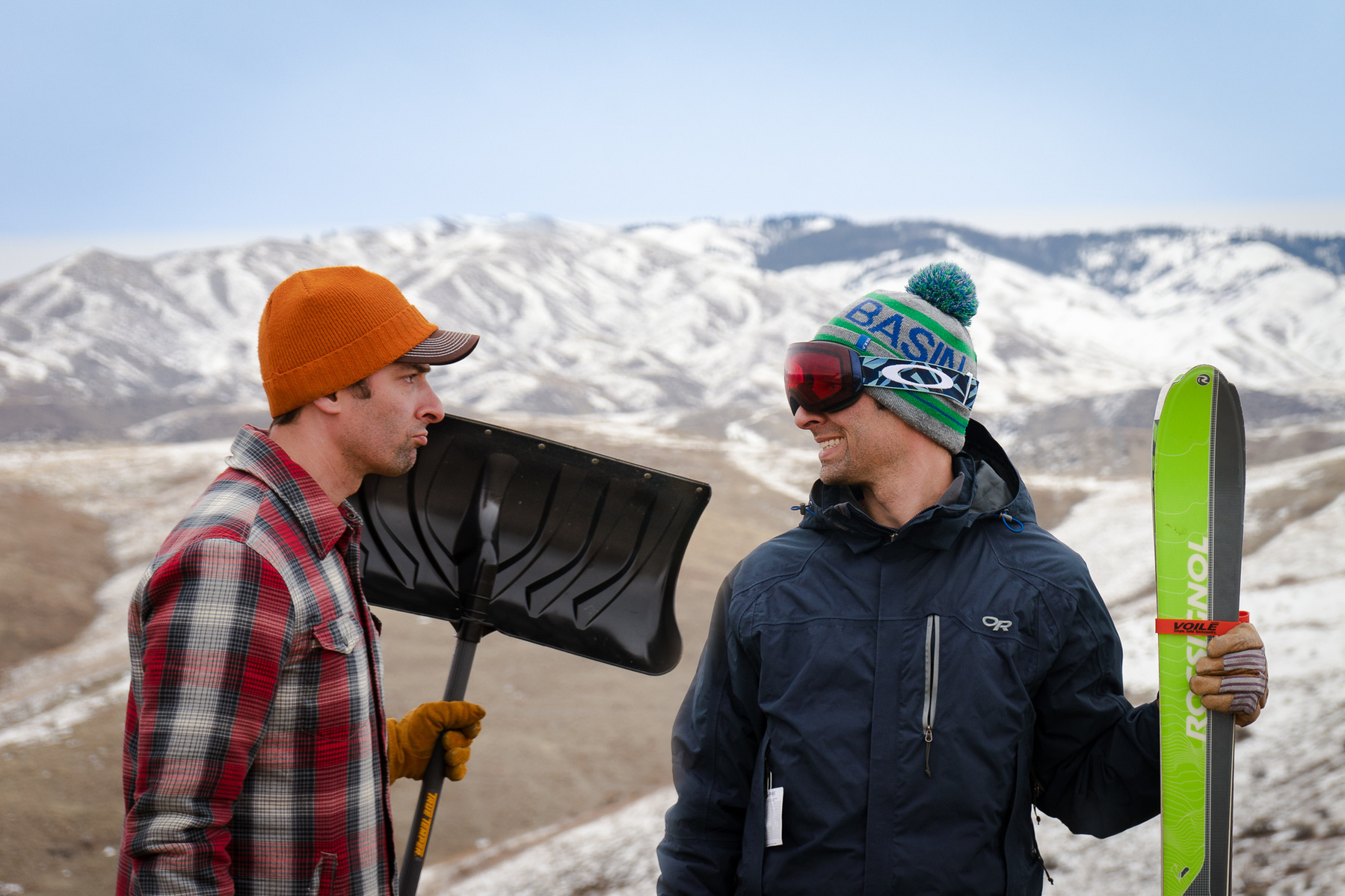 Here in Idaho, we rang in the New Year with a series of snow storms that brought 40+ inches to some areas in the mountains and even blanketed the ground here in town. As weather is often low hanging fruit for small talk, I was asked multiple times what I thought of the snow. "It's awesome!" I'd say like a wide-eyed child getting his first peak of presents under the Christmas tree. Most often the questioner would respond with a look of confusion and disgust, sorry they had even brought it up. I quickly remember that not all have been enlightened by the joys of fresh snow and that my coveted flakey precipitation is not welcomed by all.
It is not as if I don't understand the costs that come with winter weather. Growing up in Northwest New Jersey, snow storms were a mixed blessing. Winter systems meant the potential for canceled school and the chance for full days of hot laps on the sled hill. Before we were allowed to hit the hill though, there was another slope that had to be taken care of – the driveway. Our driveway was not a nice paved cul-de-sac square that took ten passes with the shovel. Rather this gravel drive curved uphill 120 yards from road to garage. In what seemed like hours by 10-year old standards, my brother and I would dutifully assist my father in clearing the driveway shovel load by shovel load. Chores done we'd return to the house for a quick pick me up of hot chocolate and then it was off to the sled races until the light got too low.
As is the case in other aspects of life something happens as we get older and we lose our childhood zest for falling flakes. It is as if we forget what it is like to have fun. Sure there are the down sides to snow – cleaning off cars, shoveling, sketchy road conditions, and extra layers of clothes. Yet there is a segment of the populous that not only accepts these realities, they wait for it year after year with bated breath. Stand at the base of any ski hill the morning after a big snow storm and you'd think world peace was achieved as complete strangers nod to each other with ear to ear smiles as hoots and hollers echo down the slopes. Show me a skier (or snowboarder) on a powder day and I'll show you the fountain of youth.
I recently found myself in such a scenario after several systems brought much needed feet(s) to the mountains. As we drove closer and closer to the resort, the snow piled higher and higher. Parking the truck we joined our fellow visitors in the transition to ski mode, donning boots, extra layers, helmets and goggles. As we stood waiting for the shuttle, you could feel the anticipatory energy buzzing. With every second that ticketed by heads would turn wondering when the shuttle bus would arrive and whether the walk would really be that far. Not soon after we were boarded and talk switched to the days plans for where to go first. Unloading at the main base area we quickly grabbed tickets, buckled down the boots and headed to the lift. As we caught the first chair I thought I might need a seat belt to keep me from bouncing out I was so excited. My head darted left and right like a kid in toy store "I want to ski that line, and that one, AND THAT ONE!" I laughed and told Dana "Okay, I need to calm down, otherwise I'm going to hurt myself on this first run." The snow whipped as we unloaded the chair, gathering our friends we skied down into the shelter of some trees. What laid before us was run upon run of deep beautiful snow. We shot each other a quick grin before bounding into the blowing snow. Almost instantly I was transported back in time, the snow and wind biting my grinning face as I picked up speed through the soft powdery snow. Almost uncontrollably I let out a "Yeeeeeeeeeoooooot!" as I carved a hard turn, my skis pulling me down the mountain like dogs after a squirrel. Stopping to catch my breath (and control) I turn to find my friends sliding up next to me, the looks on their faces in as much disbelieve as mine. Is it really this good? Yup, like the first spoonful of your favorite ice cream.
Monday morning my walk into the office was a little bit slower, my quads still sore from a day of powder filled runs. As I fire up the computer and take a long sip from the coffee mug, I catch snippets of background conversations. As expected most revolve around morning commutes, weekends spent shoveling, and generally hunkering down in the house to avoid the winter weather. Through the morning fog one of my co-workers walking up to my cubical comes in to focus. "Man, how about that snow? What a headache that was!" I raise my head slowly from my coffee, a cheshire grin crosses my face while replays of the previous day's laps swirl through my head. I know the response my co-worker is expecting, but I can't oblige and simply reply "Yeh, it was awesome".